Good On Everything!
I put J Brady's on everything! The Cowboy Shake is my go to for burgers, steak, ribs, even grilled veggies. Love this stuff!
Kicking Myself!
Just went through The Cowboy Shake and I am kicking myself for not ordering sooner. My ribs will not be the same.
Time to Jump!
I love this stuff. If you're on the fence, it's time to jump!
Highly Recommend!
Fast shipping and awesome seasoning! We will buy more!
About Brady
My name is J. Brady Stewart and food is my passion. To be more specific food, beverage, and PEOPLE are my passion. I have worked in the food industry for over a decade as an engineer. I am an avid cook and love to entertain. This stems from spending time in the kitchen with everyone in my extended family are all amazing cooks. I have spent years honing my craft and I would like to think that I know what's good!
I started J. Brady Seasonings as an outlet for my love and passion to create seasonings blends I use frequently to create flavor profiles over and over again in my own kitchen. Ready to start my own business, what could be better than with something I enjoy and love.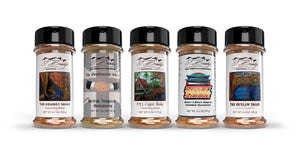 Gift Pack
Sale price Price $30.00 Regular price $0.00
Tax included.
Shipping
calculated at checkout.